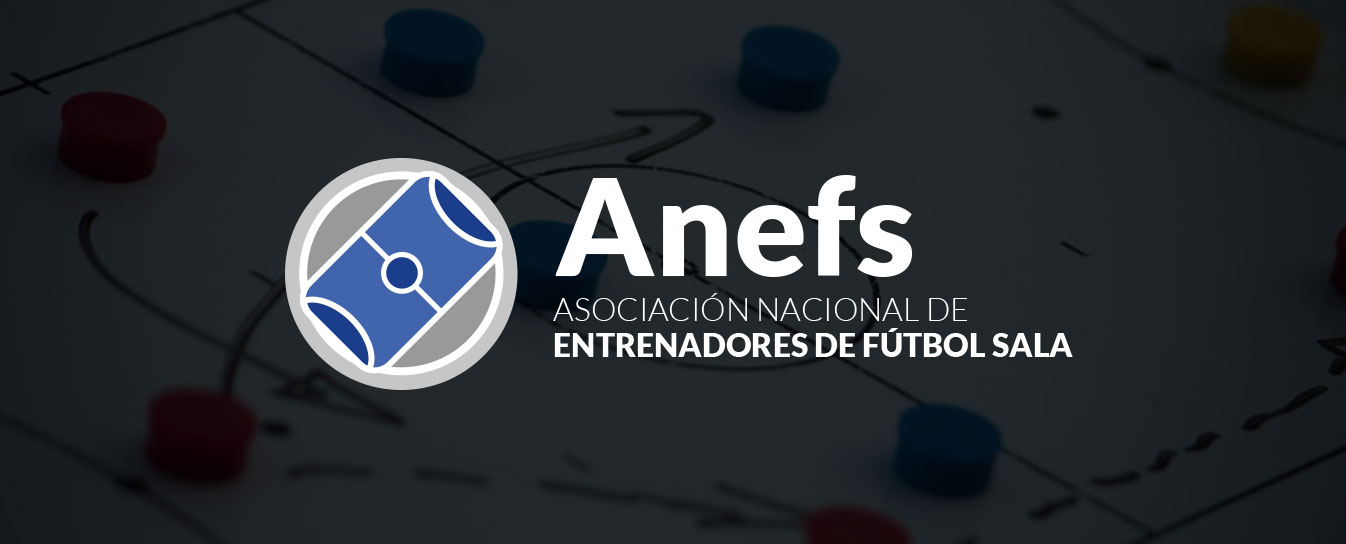 Founded in 1998 the ASOCIACIÓN NACIONAL DE ENTRENADORES (ANEFS) is a non-profit independent association which realize educational activities around the Spanish territory. 
ANEFS has as a main objective to promote the education, capacity and the progress of all the futsal coaches, executing  and promoting all the activities or events to achieve that.
Could be ANEFS members all the futsal coaches and sportive technicians around the world which enroll with us through our on-line platform.
ANEFS Members Area
An on-line platform with the best services and exclusive contents for all the futsal coaches, made it for and to the member.
ANEFS Interviews and Futsal History. Only available ins Spanish language.
ANEFS Technical Area
More than 60 video contents: download the best technical contents for a futsal coaches (conferences, debates, clinics, exercises, futsalmeetings, and more!).
ANEFS official book (only in Spanish language): buy futsal books for coaches made it for our members, with the stamp of quality ANEFS.
Congress and Technical Conferences: discover our two presencial events during the Spanish LNFS Copa España and in June-July with our annual Congress. Enjoy in every event during 3 days with the best coaches of the world and the best futsal activities. Do not miss out!
ANEFS Educational Area
Non-official on-line courses for continuous education:
Monitor/Instructor Course (more than 60 hours)
Learning the 3-1 attack system
Learning the transition system
Learning the tactical main concepts
Sportive Coaching
Official Academical Levels 1, 2 and 3 in our Spanish platform www.ceneifs.es 
ANEFS Laboral Area 
Job Center: ANEFS offer to clubs and coaches a tool to interact. If you are a coach and want to find a job, here you can find it. And If you are a club you can enroll with us and post your needs.
ANEFS International Area 
Contact with ANEFS if you want to use our learning methodology in your country or club. We have the best tutors and documents. Bring ANEFS around the world!
ANEFS TV 
Find in our youtube channel a lot of open videos. Conferencies, debates and more, subscribe it and follow us. Discover a new world!
ANEFS MEMBERS RIGHTS AND ADVANTAGES
Discounts or even free, access to all the ANEFS activities from the ANEFS Technical Area promote (Clínics, Conferences, Congress...etc)
Continuous information about all the labor aspects related to the coach professional life.
Free access to more than 60 exclusive technical videos in our Technical Area.
Big discounts in all our on-line courses in the Educational Area.
Access to our open Youtube Channel with a lot of video futsal contents for coaches.
Discount of our sponsors in insurances, hotels, sport clothes, sport material, educational masters and more...
Big discounts in our Official Academical Levels in our online platform www.ceneifs.es
We can publish and share in all ANEFS media channels your documents or videos.
Free access to LNFS regular season 1st and 2nd division league (every year we negotiate the conditions and could changes).